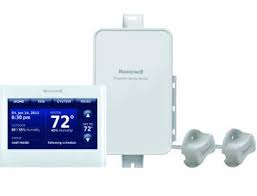 Overview
Redesigned Prestige 2-wire IAQ kit with RedLINK technology. For Residential or commercial use.

Kit Includes:

Prestige IAQ Thermostat (THX9421R5021XX)
Equipment Interface Module (THM5421R1021)

2 Duct Sensors

RedLINK Enabled
7 Day Program
Up to 4H/2C Heat Pump
Up to 3H/2C Conventional
Controls Humidification, Dehumidification and Ventilation

Features

Easy to program and use
Customizable high-definition, full-color display which is smaller and sleeker - 60% smaller footprint
High-gloss acrylic frame in four color combinations
Get email alerts for things like poor system efficiency or water leaks
On-screen or email reminders for filter replacement, seasonal maintenance and more
Answer a few questions and the system will self-program
Prestige also learns how long it takes to heat or cool your home; simply set the time and desired temperature and the system will run only long enough to reach desired level
Remote monitoring - Easily control multiple buildings from a PC, tablet or smartphone
Self-monitoring diagnostics - Sends alerts for needed maintenance and service issues
Total solution - Integrates occupancy sensors, lighting controls and other HVAC/IAQ systems
Building code compliant - Meets all commercial building codes, including Title 24
Temperature set point limits and keypad lock out lets you manage energy usage for maximum savings
365-day scheduling - Program up to 25 custom events
Save energy in infrequently used rooms
Adjustable ramp rates
Retrofit existing controls - Replace inefficient HVAC controls with RedLINK wireless management system
Includes diagnostics and alerts - Quickly identify HVAC system issues
User interaction, alert, and temperature performance logs - To aid diagnostics and speed service calls
Low installed system cost with no monitoring fees
Honeywell's Total Connect Comfort service lets you manage your system remotely with a computer, tablet or smartphone
RedLINK wireless accessories such as sensors and remotes help you easily optimize comfort throughout your home
RedLINK Internet Gateway with Total Connect Comfort Services Once installed by your heating and cooling professional, go online to register your account and customize your system and alert settings. Free apps available for Apple and Android devices.